Yesterday was International (Worldwide) Quilting Day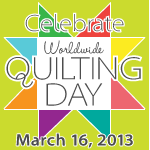 And did I do my bit for quilting, well yes I did, our fabric shop was having a massive sale but only 30% off quilting fabrics which at 18E a yard for normalish, dowdyish fabric even at 30% it didn't float my boat. So instead I bought some cute backing for the girly siblings quilt.
I bought some giraffe fabric is to make quilt/duvet covers for the motorhome so they actually match this year. (dh has a thing about snails and giraffes)
There was some princess fabric, owls and strawberry shortcake, some threads were purchased 50cts a reel and some fabric paint amongst other bits.
DH bought a Wurlitzer Juke box for his birthday present so I didn't feel at all guilty with my little purchase.
Then the nice postie delivered my superior threads so I can get the vomit quilt loaded hopefully, but I feel like p00 with a really heavy, horrible, chesty, yukky cold so can't actually be bothered atm.
DD woke up and said *we're sewing today, I want to make a cushion* ohhh please no.... but she insisted, got her machine out and was threatening to cut the fabric up on her own. So being the dutiful mummy, I cut the fabric for her and she pinned,sewed (with adult supervision) and is a very proud 5 year old and I have to say i'm a proud mummy because she has made this yummy cushion.
I grabbed 4 remaining partial blocks I had from the zig zag quilt, sewed them together, did some straight line quilting in a zig zag on it, shoved a back on and for the first time bound them with binding.I do like how they look but if I'm going to be doing it alot, I'll be learning how to machine the binding on properly, but then I spent a comfortable hour hand stitching it this afternoon, so was quite relaxing.
Amelia's gone to bed quite happy tonight, surrounded by her cushions, her quilt and as ever, Hello Kitty :O)
I'm hoping to get either DH's cushion quilted, if he disappears off into the workshop tonight or get the vomit quilt on the frame, could be a week of finishes if normal life doesn't get in the way.
Happy Sunday x