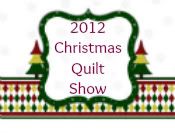 My 2012 Holiday Medley Quilt
Stitchery started in 2011 finished in 2012
Yo Yo Tree 2011
Twister Wreath made in 2011
Twister 2011
Snowman stitchery 2011 (I think)
Corrr Think this one was made in 2006
Made for my mum in 2005/6 and it's my favourite Christmas quilt
I always seem to have lots of quilts and wallhangings to get out for Christmas,my favourite is the one I made for mum when I'd just started with patchwork, I still love it now and it has gorgeous poinsettia's and lots of gold.
Last year was twister phase, so easy and such fun and my first go at FMQ on the frame.
If I get chance this year I'm going to try and get a Christmas tree one done, I think I've left it a bit late LOL but this year's addition is the Holiday Medley quilt. I'm not getting my tree out this year until at least the 16th, probably the weekend after because with 3 cats and the puppy, it isn't likely to stay up much...but I think I may be tempted to get the quilts out before :)
I'm entering this post in
I'm not expecting to win anything because there are some truly awesome quilts entered, Don't you just love Rudolph
stitch in therapy
I'm just in it because I love Christmas quilting :)
although voting is on the 3rd/4th December should you wish to vote.
Happy Saturday, :)