I'm dedicating a whole post to this because it's such an important cause and Danielle needs your help. I first read about it from
lilysquilts
and thought what a great idea and surely it wouldn't take long to make.
Danielle from
DJ Cool Bear
blog is organising a quilt to raffle to raise money for
Movember
and the
Mary Potter Hospice
in Wellington NZ.
Danielle's lost her father earlier this year to prostate cancer and has put a call out to all quilters internationally to make a block to donate to the quilt. There will be two quilts made, one for UK and one for NZ.
(I think she might be surprised and it becoming much more than 1 quilt each)
You can find the details on Danielle's blog -
Can't Grow a Mo, Sew a Mo
post.
It's basically, make a square, put a mo on it and frame it, needs to be 12.5" or smaller:)
You can visit the
Flickr Group
to see more Mo blocks
I chose a mustardy yellow solid, because what's France famous for but it's Moutarde :O)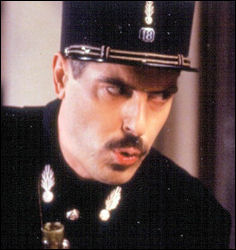 I decided on a fairly French looking Mo... It reminded me of the gendarme (policeman) Crabtree in 'Allo 'Allo.... and look at the lovely wine border, how appropriate, I love that fabric.
So if you can spare an hour, please get busy making a Mo and help Danielle in her cause.
Thanks